Organic Muscadine Grapes in Athens, GA
Dr. Karen and her late husband bought the vineyard in 2005. Both were retired UGA professors, and slowly uncovered and resurrected the mature vines. There is now irrigation in place, and the grapevines produce a bounty of beautiful bronze and purple organic spheres each fall! The grapes usually come in around Labor Day, so call first to find out if picking season has begun.
Healthy Muscadines!
New research by University of Georgia scientists and others has shown that muscadines have many times the Resveratrol of blueberries! Commonly known as Scuppernongs (bronze or white muscadines), and Muscadines (red or purple muscadines), these grapes have been a staple in the rural SE United States for many years!
U-Pick or We-Pick.

Contact us for a time to come pick or to purchase already-picked muscadines!
Learn about the health benefits of muscadines!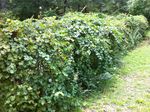 Contact us:
Send us an email